The Random Lake Rod & Gun Club is a civic-minded non-profit organization through club membership.  It is committed to promoting the shooting sports, providing continuous education on gun safety, environmental care, and land and water conservation, as well as enhancing club growth or involvement. This will be done in a manner respectful and rewarding to people of all ages in Random Lake and the surrounding communities.
The first Random Lake Rod and Gun Club was organized on April 9, 1936, with approximately 60 active members. With the arrival of World War II many of the members were taken from home. By the 1950s, the Club was nearly out of existence. On February 28, 1956, the Club was reorganized and within two weeks, 40 active members had signed up along with six junior members. On August 2, 1956, the Club helped to organize a separate National Rifle Association shooting club. By 1959, the Club had purchased land for a clubhouse and shooting range, located a mile south of Random Lake at W3315 Jay Road. A 20×30 club house was built that year.
The original club had a caretaker for 17 years. Elmer Zbinyovski was born into a Russian game wardens family located at the far eastern tip of what is now known as Czechoslovakia. After World War I, the Austro-Hungarian Empire was broken up to form Austria, Hungary and Czechoslovakia. He moved with his family to Hungary. Zbinyovksi's sense of patriotism lead him to enlist in the Hungarian Army just before the onset of World War II. When the German troops invaded, he found himself in the German Army. He left the army in 1944, after serving 14 days in a military jail for refusing to fire upon an American P-51 fighter; he was not willing to fire against the Americans. Then the Russian troops came to Hungary. In 1956, he escaped the country with his wife and daughter and came to America. Zbinyovski found a home in this country at our club. He loved the outdoors. Every spring and fall he would take sacks of corn, bread and grain to feed the migrating ducks geese and other birds. Even though he was an avid hunter, he would say, "I no shoot them. They are refugees, from another country, just like me." In exchange for his duties as caretaker, he received free lodging.
In 1995, the old club was torn down and a new club house was built. The club house was designed to include living quarters for Elmer Zbinyovski, but he did not take on the role of the caretaker. In 2007, a 30×160 ft indoor archery range was added. Another addition during that year was a series of concrete walkways, so now the entire trap shoot facility is accessible to all. While there have been many renovations over the years, the original bar built still exists and is used for food service.
The club continues to support the community and its members and vice versa. You will find this to be more than just a gun club. Instead, it is a gathering place for those that appreciate the outdoors and comradery. Visit our calendar to see what leagues or events are happening next!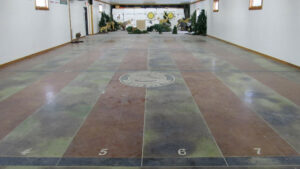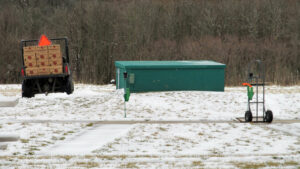 The Club holds meetings on the 2nd Thursday of the month – except June, July and August is the 2nd Tuesday of the month. Meetings start at 7:30pm.
Interested in joining the Random Lake Rod & Gun Club? Contact Don Mueller or a club member today for information and to have your questions answered.